Faber-Castell E-MOTION
This is a nice 1.4 mm mechanical pencil. I like writing and sketching with a broad lead and the shape and weight of this pencil makes it comfortable to use.
It can be had in different materials.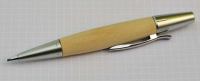 The design is excellent and it's well made. It protrudes a bit too much over the clip for my taste, since most of my shirt pockets have flaps.

The rear, which is also the twist mechanism, houses an eraser.

Spare leads are carried around the central mechanism and you reach them by unscrewing the front.
Basic data

Mass                     30 g
Tip-centre of mass       70 mm 
Total length            125 mm
Diameter ~60 mm from tip 14 mm
Protusion over clip      34 mm

---
Main - Favourite pens - >Faber-Castell E-MOTION<