Mont Blanc 149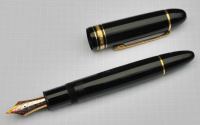 This is one of my pens which writes the best. I've never had any sort of trouble from the F nib and it's not too stiff, not too flexible. The only trouble I've ever had with the pen is that sometimes (I've never really found out during which circumstances) ink beads form on the inside of the cap so you may get a little bit of ink on your fingers when you write. I've never been able to figure out the reason for this.
It mainly got chosen for its size, and it's proved to be a comfortable writer for a long time.
The 149 weighs 37 g, 25 without the cap, the centre of mass is 85 mm from the tip, 100 mm with the cap posted. As you carry it, it's about 145 mm long and protrudes 15 2m over the clip. Diameter is 15.0 mm ~60 mm from the tip. There is a window to show how much ink is left.
---
Document created 2002 Feb 05, last modified 2002 Mar 18 by Urban
Site main page